While hardcopy catalogues continue to have their place, digital catalogues are a far more cost-effective and flexible way to increase your brand's exposure.
We like to keep our customers on their toes here at Woven HQ and that's why we're always adding more strings to your bow. The feedback we've received in response to our digital catalogue launch has been nothing short of incredible (think screaming girls at a Bruno Mars concert). Some of our favourite remarks include:
Our reduction in printing costs are significant. Having new and up-to-date information about products available via Avenue that are then made readily available to our customers, is priceless!
We're amazed by how quickly Woven designed our template catalogues to meet our business' requirements. Best of all, a number of different templates were then made available to our team so they were ready to go whenever we needed them.
Gone are the days when the team had to worry about every minor error across our print catalogues. Our digital catalogues can be amended quickly and easily and then emailed out to customers instantly.
Our sales reps are loving the ability to tailor catalogues for potential customers when they're on the go. Technical material, when created in blog form, can also be linked to a catalogue by simply selecting the relevant blog.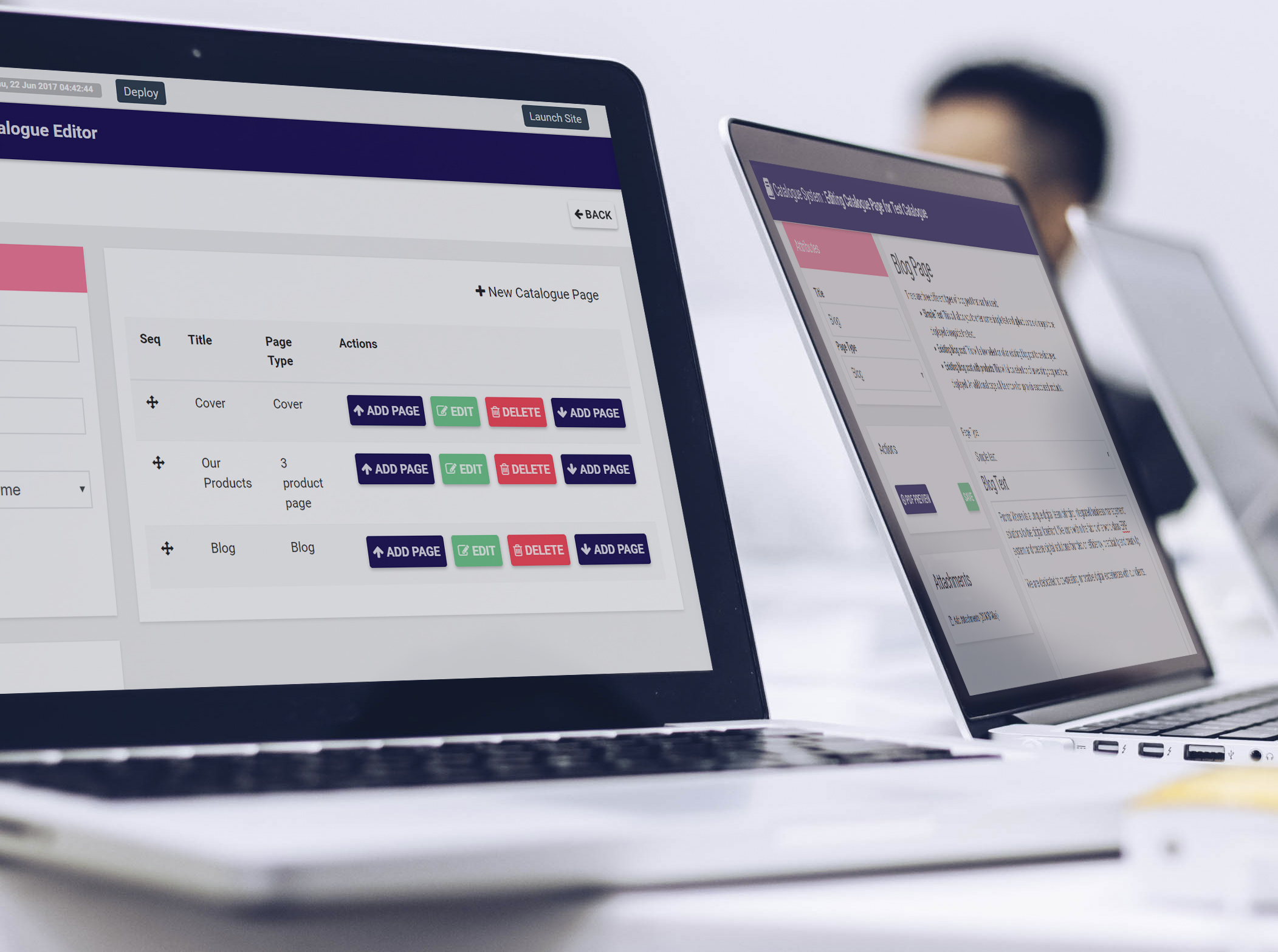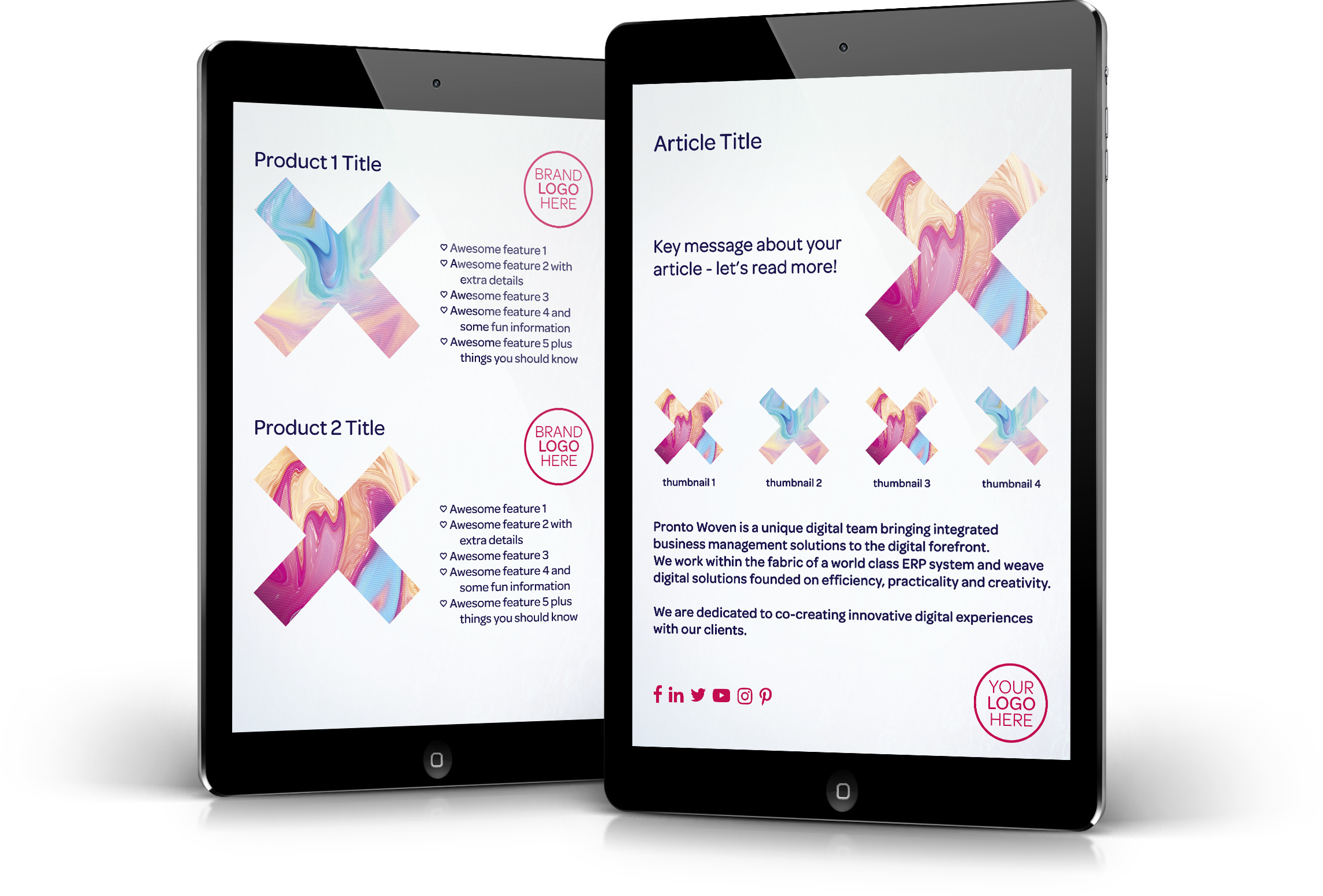 Consider this real-life working example from one of our clients who noted that in addition to savings in terms of printing costs, their organisation recorded a decent reduction in man/woman hours and turn around times to produce catalogues. We're talking about an estimated saving of $350,000 in printing costs alone, in addition to four staff being involved in producing the catalogue as opposed to 12 and all up, saving up to 10 months in production time. Pretty impressive stuff if you ask us!
Here's a list of the digital catalogue's key features:
A highly scalable database
There are always going to be limitations in terms of the number of products and pages included when it comes to a traditional print catalogue. Woven's digital catalogue can easily accommodate hundreds and even thousands of different product SKUs. Better still, each catalogue can be customised by sales teams to suit their customer's unique needs. Everything is integrated with Pronto Xi inventory and pricing, saving time and the costs associated with having to print catalogues as it's all integrated in with the ERP data.
Mobile flexibility
Your sales reps can build template catalogues that can be edited and modified on the go. Forget about losing sales because your standard catalogue doesn't cater for your customers' specific needs. PDFs are easy to generate and will link out to a product's location online making for a seamless user experience.
Custom outputs
As mentioned, each catalogue can be customised for individual customer needs. You can feature certain products, specific pricing and even add logos so that your sales reps are delivering a truly personalised experience. Let's say you're a furniture manufacturer supplying numerous products to a number of retailers. Whip out your catalogue and customise it to solely feature outdoor furniture when meeting with an outdoor specific retailer. Pretty nifty!
Device agnostic (aka it works with various systems without the need for special adaptations)
Tech speak aside, digital catalogues make it simple for both marketing and sales teams to manage data without the need for any special adaptations.
**drum roll**
Now, our judgement might be clouded by the fact we truly love this product because we see how it helps our clients to maximise their profits on a daily basis. If you ask us, when it comes to our digital catalogue, one feature in particular is gold…
It's an end-to-end solution
Here's the thing: when you visit your letterbox, grab that supermarket catalogue and start tapping on the products, what happens? Nothing (besides people on the street looking at you in a puzzled fashion).
On the other hand, Woven's digital catalogue is a truly interactive experience. Customers can view the products in the catalogue and then click through to view and order them. Every catalogue integrates seamlessly with your Avenue e-commerce solution so that your customers can flip through an online catalogue and then continue browsing your site and buying whatever takes their fancy.
Ready to lead the way in your field by harnessing the power of Woven's digital catalogue to deliver better customer service? Contact us to discuss your business' unique needs.